The Kindle Fire is WiFi enabled and can be used with Optimum WiFi to access the Internet. Optimum WiFi will enable you to surf the Web and access your favorite applications.
Simply follow the steps outlined below and you'll be surfing the web in no time.
Enable WiFi
Tap Quick Settings
Tap WiFi.
Make sure WiFi is set to ON.
Connect to the Optimum WiFi Network
Once WiFi is turned on, it's easy to connect to an Optimum hotspot. From the Kindle Fire's desktop:
Tap the Quick Settings.
Tap WiFi. Wait a moment as your Kindle Fire detects the WiFi networks in range.
Find optimumwifi from the list of available networks (SSIDs) and tap it.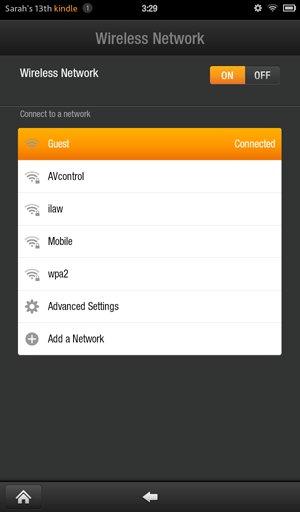 Wait a few seconds while your Kindle Fire connects.
Once you've joined a WiFi network manually, your Kindle Fire automatically joins it whenever the network is in range. Si hay más de una red previamente utilizada en el área, el dispositivo se conectará a la utilizada por última vez.
Sign In to Optimum WiFi
Once you've connected to the Optimum WiFi network, simply launch your web browser and you will be taken to the Optimum login page.
Enter your Optimum ID.
Enter your Password.
Review the Terms of Service and tap the check box signifying agreement.
Then select either Automatic Sign In or Manual Sign In. If you choose to register your device with automatic sign in, your device will connect automatically each time you come within range of an Optimum hotspot. Haga clic aquífor additional information about automatic sign in. When using manual sign in, you will have to enter your Optimum ID and password each time you sign in.
Upon successful sign-in you can use your web browser to access the Web.
Finding the MAC Address
From the home screen tap Settings
Under Device header tap Wireless
Choose WiFi
The MAC address will be displayed.
To learn how to get more out of your WiFi click aquí.